Agriculture is the major source of livelihood in Albay Province. The volcanic rocks and ashes that
Mt. Mayon spewed have destroyed at least P100 million worth of crops.

The Department of Agriculture in Albay said P100.7 million worth of unmilled rice, fruit trees, vegetables, bananas and hemp were destroyed by searing-hot volcanic ash and rocks expelled by Mayon.

The initial estimate of damage did not yet include those in coconut plantations, which were still being assessed by officials.

About 83,000 people have been displaced and more than 65,000 are being housed in tents and classrooms. Mayon usually remained active for 2 to 3 months at a time, thus the evacuees may have to stay out of their homes for at least that long.

GLOBAL EFFECT: Singapore (Reuters) - While villagers living near Mayon volcano are feeling the force of brutal eruptions almost daily, the rest of the world could feel Mayon's impact through cooler global temperature. Experts say if the dust makes it into the upper atmosphere, it would form a veil over the Earth, preventing some of the Sun's heat from reaching the Earth's surface and causing temperatures to drop. But this does not have any long-term effect.

--oOo--

---

February 21, 2000 (Monday)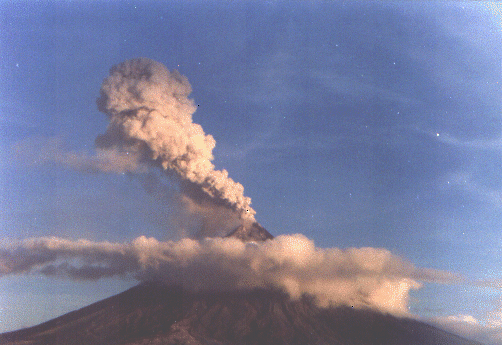 The flow of magma toward the crater has been pushing lava out of the volcano's rim.
February 22, 2000 (Tuesday)
At dawn, lava started to flow down the slopes of Mayon Volcano. The lava is seen rolling five kilometers down a gully on the southeastern slope at 80 kilometers per hour.
Portion of the crater wall collapsed, discharging ash 400 meters into the air.
The lava has been clearly visible at around 7 p.m. and flowed until 5 a.m., Wednesday, down Bonga gully in Camalig, Albay.
February 23, 2000(Wednesday)
Lava continued to flow down from the summit while volcanic ash fell on the area around Mayon Volcano the whole day.
As the dome grows due to magma buildup at the summit, materials are continuously being detached from the lava dome, comprised of either lava fragments or rocks that produce rockfalls. Lava fragments rolled down the slope of Mayon to a distance of about 1 kilometer from the summit.
Police and military personnel forcibly evacuated 3,944 residents within the six-kilometer radius of Mt Mayon considered a Permanent Danger Zone. Those evacuated came from the towns of Tabaco, Sto. Domingo, Malilipot and Camalig.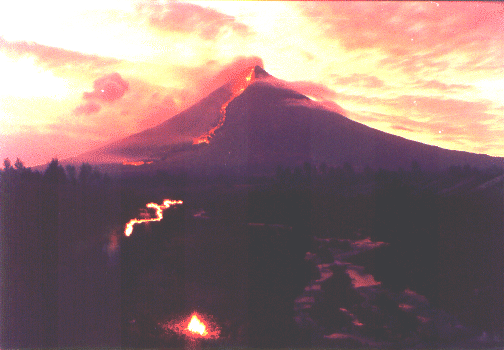 February 24, 2000 (Thursday)
In 14 explosions, the mountain shot lava and ash into the air, darkening the sky and prompting a mass evacuation.
February 25, 2000 (Friday)
The 2,460-meter volcano appeared to have simmered down, quietly extruding lava from its crater.
Hundreds of evacuees returned to their homes during the lull to check or collect firewood, water and clothes.
Many complained of overcrowded evacuation centers at schools where some families are packed 12 to a room. Others said there were not enough toilet facilities and drinking water.
President Joseph Estrada release some 20 million pesos for relief fund.
February 26, 2000 (Saturday)
Before dawn, Mayon Volcano again spews more lava and red-colored molten rocks which slides slowly down the slope.
Shortly before noon, the volcano ejected a cloud of ash 500 meters into the sky, accompanied by a load booming sound.
Five others up to 1 p.m. followed the eruption at intervals of 16 minutes.
Around 2:30 p.m., a bigger explosion shot ashes two kilometers high. The ashes drifted southwest and settled on the slopes. The thickest ashfall was recorded in Barangay Masarawag, Guinobatan, around 8 kilometers from the crater.
The more than 47,000 evacuees have been warned to keep away from an 8-kilometer danger zone. The area is still under Alert Level 5.
February 27, 2000 (Sunday)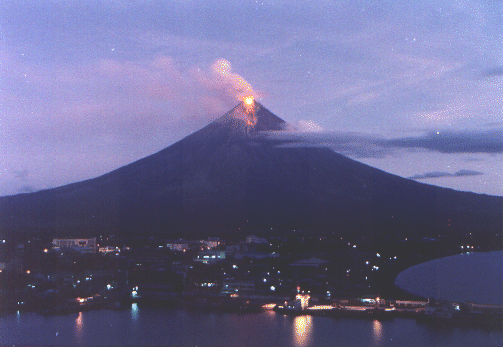 Mayon continues to spew lava and molten rocks down the Bonga Gully and volcanologists warned anew of dangers of major eruptions. Alert Level 5 is still in effect.
Rice, medicines, used clothing, clean potable water arrive into cramped evacuation centers from both the government and private sectors in answer to calls for assistance by thousands of refugees in seven towns and Legaspi City displaced by Mayon eruptions.
Camarines Sur Gov. Luis Villafuerte lead volunteers aboard a long convoy of trucks and vehicles that carries relief goods and other necessities.
A big team of volunteer doctors attends to the evacuees who need immediate medical care.
February 28, 2000 (Monday)
Since the evacuees have to stay for two to three months, the provincial disaster management officer, Cedric Daep, said they will need to spend about 25 million pesos ($625,000) on food alone for the first month. This is based on a government guideline that says a family of six evacuees should get only about 90 pesos ($2.25) worth of food a day. This amount does not include the cost of potable water, transportation and medicine.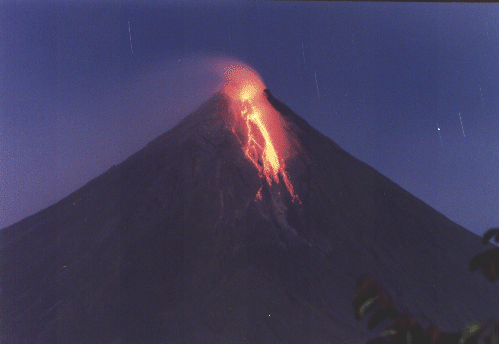 March 4, 2000 (Saturday)
20,000 Mayon residents from 19 villages in Albay are still threatened by lahar flow.
8 major tributaries around Mayon Volcano are heavily silted with volcanic debris. Heavy downpour can trigger the lahar flows.
Villagers have defied bans on entering the danger zone, checking on their farms and homes during lulls in Mayon's tantrums. Villagers who were forced to flee their homes are now anxious to leave packed evacuation centers as eruptions died down.
Evacuees were living in intolerably crowded conditions, with holes dug behind the classrooms and draped with cardboard or pieces of cloth serving as toilets. Many had to sleep on cold, concrete floors.
To relieve the boredom, a few carried television sets and stereo systems from their homes to the evacuation centers.
Some enterprising storeowners set up small market stalls in the centers.
In Manila, the Department of Labor and Employment announced that it would help displaced villagers find alternative means of livelihood by holding training seminars in evacuation centers.
March 6, 2000 (Monday)
A heavy downpour poses a threat of volcanic mudflows and could hit populated areas and a major road.
Relief goods and medicine are being distributed among the evacuees. The DOH had already sought technical and material assistance from the World Health Organization.
Suspended air transportation in Bicol, has deprived the region of tourism revenues from local and foreign tourists. This has also prevented the immediate transport of goods to and from Bicol.
March 7, 2000 (Tuesday)
Lava deposits in the upper middle slopes collapsed at 7:46 a.m. to produce a voluminous secondary pyroclastic flow, accompanied by tremors that people mistook for another eruption.
Scientists said walls of lava deposits on Mayon's slopes collapsed and rolled down the mountain, throwing up clouds of ash which swamped the villages as far as 12 km for the crater.
People in the streets started running, vehicles stopped and darkness enveloped some areas for about two hours.
The estimated 50 million cubic meters (1,750 million cubic feet) of volcanic materials deposited on the slopes now pose an even bigger danger to the villages and towns at the foot of Mayon.
Heavy rains could loosen these deposits and turn them into violent rivers of mud and rocks that could destroy villages in their path.
The Albay Provincial Disaster Coordinating Council (PDCC) has distributed 70% of the P20 million released by President Estrada to eight towns and Legazpi City while retaining 30 percent for future contingencies.
---

(Note: The above articles have been compiled from various newspaper reports.)